How to Configure Swift Performance Plugin for WordPress
Step 1: Download Swift Performance Plugin
Go to the main website of Swift Performance and choose the plan as per your requirements. You can choose between 4 different plans: Free, Single, Multi & Developer
Download the free version or place the order for Swift's Pro version and then download the zip file to your local computer.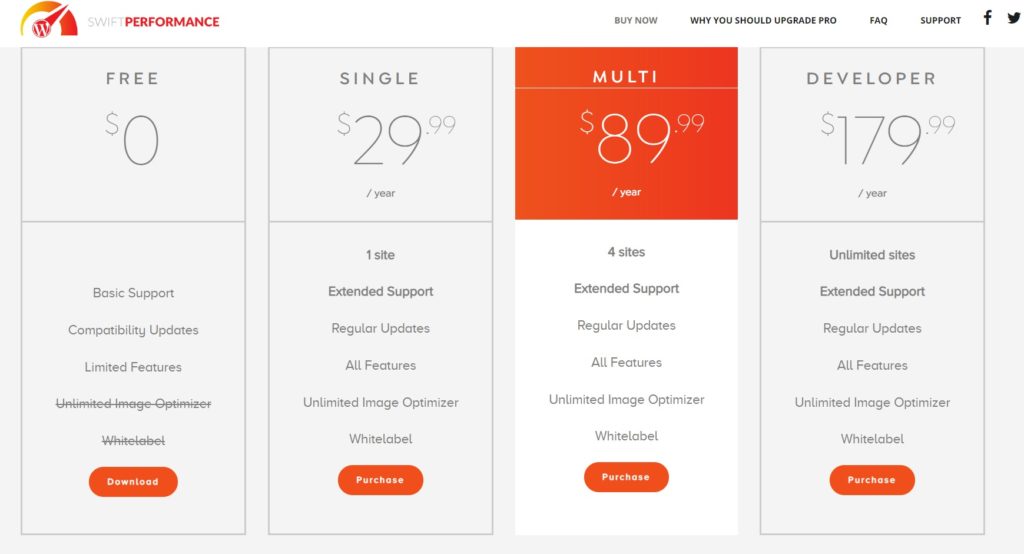 Step 2: Log into WordPress Admin
Log into WordPress admin area of your site with your credentials.
Step 3: Remove other Cache plugins
You need to deactivate and delete all other cache plugins and any other installed optimization plugins from your WordPress site to avoid any conflicts. You can only use one plugin for the same task.
Step 4: Install Swift Performance plugin
Under the Add Plugins section, click on the Upload Plugin option. Then click Choose File to provide the path of your downloaded swift-performance.zip file and click the Install Now button.

Once installed, then activate the plugin from Installed Plugins section. After activation the Setup Wizard automatically popups.
Enter your purchase key and click on save. (free Swift Lite version does not require a Purchase Key to continue).
Next screen gives you 4 options, when this is your first time you install Swift on this website, choose the Autoconfig option and then click on start. You may also choose Use Preset here, just follow Swift Install Guide – Use Preset to continue installing.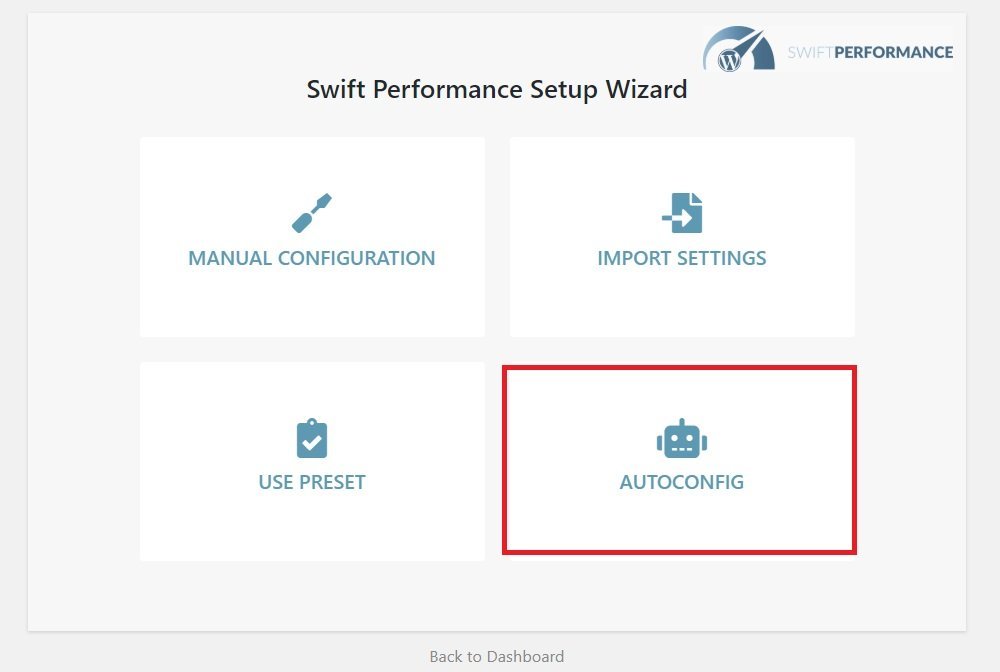 Within a few minutes Swift auto-detect the best settings for your hosting environment. Just sit back and relax….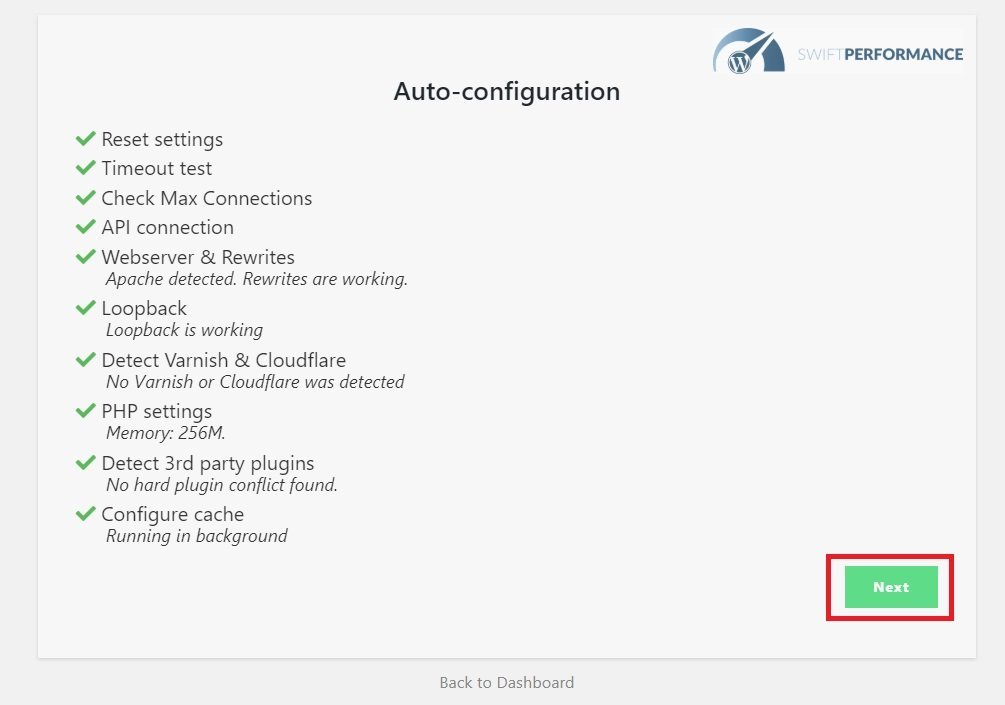 Click on next. Your website is ready and fast!
Now you can choose to optimize all your images for free (Pro version only), but best is to do that after it satisfies you with the autoconfig configuration. For now, we choose Swift Performance Settings.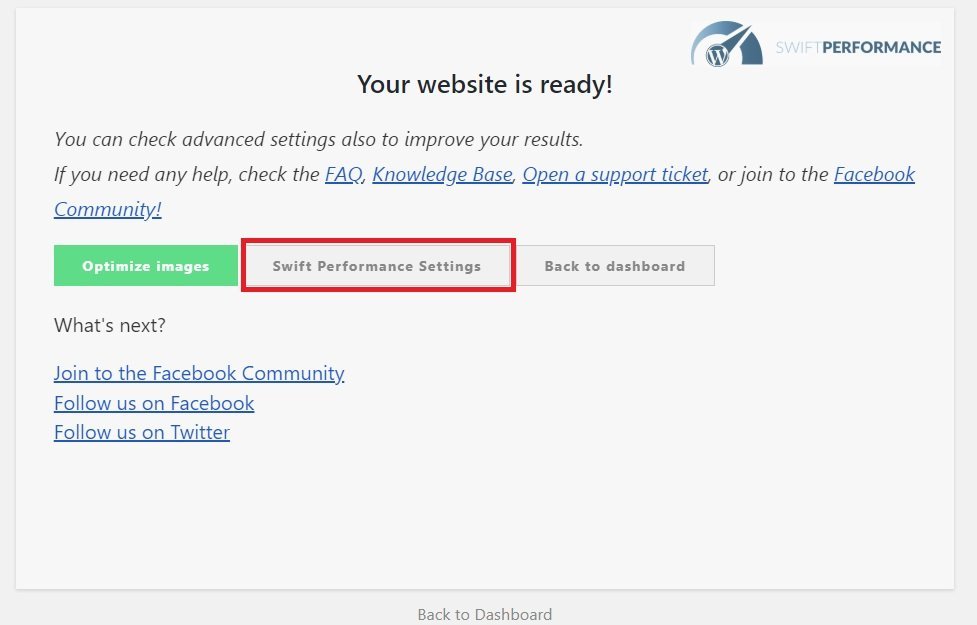 From Swift Dashboard you have access to all simple and advanced settings. Just test the front-end of your website and if everything looks right and fast, you can leave it this way or continue configuring Swift further, to speed up of your website even more.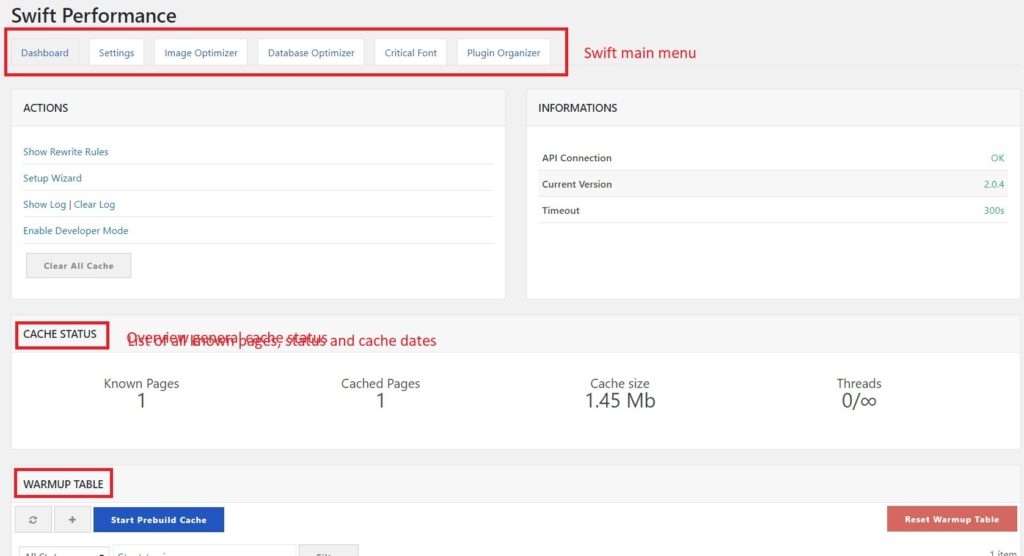 After you have run the auto wizard, some elements of your website may not work as it should. They usually related to combining files. Fastest solution is to disable Merge script and/or Styles.
Common Issues
Unwanted URLs in warmup table
Swift is using more aggressive optimization/preload functions than any other plugin on the market. That makes it better and faster, but sometimes it means that built for crawling links is a bit too aggressive. Don´t panic, read this guide to avoid unwanted Pages/URLs.
Strange redirects
If you have strange URLs in your analytics or you can see that the site redirects to an URL like this:
https://www.yoursite.com/wp-content/cache/yoursite.com/desktop/unauthenticated/index.html
This is caused by an improper order of htaccess rules. Probably you are using a force SSL or force www/non-www rule in htaccess. Please remove these rules from .htaccess, and insert them in Settings > General > Tweaks > Custom htaccess.
High CPU Usage
While Swift is generating the cache, the CPU usage can be higher than usual. Swift is using more aggressive optimization than any other plugin on the market and it needs some CPU. Usually it isn't an issue and CPU usage can increase temporarily, but if it goes back to normal after prebuild finished, you need not worry about it.
However, for large sites on a relatively small server it can cause too high CPU usage temporarily. Actually, when the server is using CPU, it is always using 100%. High usage means it used the CPU for a longer period.
If CPU usage is constantly higher, you may need to check the configuration. I recommend to:
Enable Compute API: Settings-> General -> Compute API
Enable Optimize Prebuild Only: Settings-> Optimization -> General -> Optimize Prebuild Only
If something does not satisfy you with Optimize Prebuild Only option, enable Optimize in background instead: Settings-> Optimization -> General -> Optimize in Background.
Setting a low number of threads as maximum: Settings > Optimization > General > Maximum threads: set this to 2 or 1. One (1) will slow down the prebuild a bit, so best is to try two (2) 2 first.
Exclude third party CSS: Settings-> Optimization -> Styles-> Exclude 3rd Party CSS.
Disable Generate Critical CSS as generating Critical CSS is the most CPU intensive process: Settings->Optimization -> Styles-> Generate Critical CSS.
Exclude third party JS: Settings-> Optimization -> Scripts -> Exclude 3rd Party Scripts.
Set Cache Expiry Mode to Action based if you are not using nonce or anything that can expire on frontend: Settings-> Caching -> General -> Cache Expiry Mode: Action based.
Enable Prebuild Cache Automatically: Settings-> Caching -> Warmup -> Prebuild Cache Automatically.
Setup lower Limit prebuild speed(recommended using on limited shared hosting): Settings -> Caching ->Warmup -> Prebuild Speed: Moderate (or slowly).
Exclude post types which you wouldn't like to cache. Autoconfig should find most and exclude them automatically but you can add them manually: Settings-> Caching -> Exceptions-> Exclude Post Types.
Check our FAQ or documentation if you have any additional problems, or open a support ticket and Swift Support team will be happy to help you out.